Meet: One of America's Farmers-The Pistorius Family
I'm always astonished when I hear a story about how a farm came to be. I grew up in a family of farmers, it wasn't their primary job however they dabbled in it a bit, farming was a part of each day. My uncle Carl is the only family member still doing a bit of farming in northern Minnesota and my two cousins occasionally help him out with the duties. My husband and I have some friends who have almost 30 acres of land that is home to some amazing organic crop. They have an apple orchard, a vineyard, many herbs and plenty of vegetables! While they don't strictly farm, they have full-time jobs too, they are constantly devoting time to their land. It's inevitable if you want to harvest any of it. Our friends believe in land stewardship and choose not to use chemicals for a reason.
After reading the stories about
America's Farmers
, The Pistorius Family caught my eye. Yesterday I shared a recipe featuring a delicious snack made with
organic corn kernels
! Meet the Pistorius family:
"We treat every field as if it were the only field we farm, doing our best to maximize profitability while maintaining excellent stewardship of the land."
-- Pete Pistorius
"Technology is such a big part of farming, and I think that we are constantly learning and growing – it's not unlike other professions. Farmers are always trying to learn about new techniques and update their equipment."

– Megan Pistorius
Currently, Pete and his father Tim oversee the day to day operations along with a brother in law. Pete's wife, Megan, takes care of the household while Pete is out working the field. Pete and Megan have three girls and a young son that he hopes will have interest in farming when he's older. I love to see farming families carry on the tradition through generations!
Click through to learn more about The Pistorius family and others! >>
America's Farmers
<<
Thanks to all our American Farmers for providing us with delicious organic options as well as passing on good morals and values through your generations!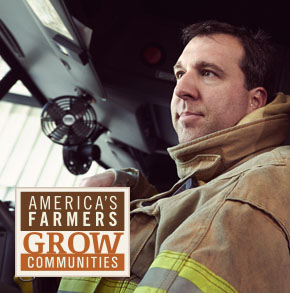 peace, love & coffee,
rachel
This post was created in partnership with America's Farmers. All opinions are my own.